Accueil du site > Séminaires, Colloques > Peter Limbrick in Tangier, 2012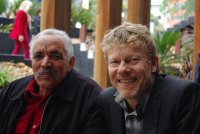 Peter Limbrick in Tangier, 2012
vendredi 13 janvier 2012
From University of California Santa Cruz.
Film and Digital Departement.
January 2012.
MOUMEN SMIHI AND EAST-WEST CINEMATIC TRAFFIC IN THE MAGHREB :
This proposal is to fund the first phase of a project on Arab film and video and its relationship to the West.
In 2007 I brought the Moroccan director Moumen Smihi to UCSC. Smihi is a foundational figure in the "New Arab Cinema" of the 1970s in the Maghreb (North Africa). Trained at the influential IDHEC film school in France, Smihi also attended seminars with theorist Roland Barthes and partook in the cultural context of structuralism and psychoanalysis there in the sixties. Returning to Morrocco in the 1970s, he made a series of important films and has published several volumes of writing on cinema, none available in English.
My project is to establish an historical context for Smihi's work, locating him in relation to Maghrebian cinema but also to European and Hollywood films with which his work is in dialogue. I will also investigate Smihi's critical practice as an engagement with Arab and Western philosophy more generally. Part of Smihi's intellectual project—critical and creative—is a reinvigoration of discourses of modernity within the Arab world and a reevaluation of the cultural traffic between West and East.
I propose travel to Tangiers (Smihi's home) and Paris in order to work in film archives and with Smihi himself. In Morocco, I will view Smihi's films (unavailable here), conduct research in the Moroccan Cinema Center in Casablanca, and will interview Smihi about his work. In Paris, I will consult other sources on Smihi and Arab cinema at l'Institut du monde arabe. My good reading French and steadily improving spoken French will enable the work (Smihi has assured me that since the cinematic culture of the Maghreb is Francophone, knowledge of Arabic is not necessary for this phase of my project). Smihi has been warmly encouraging of my project and has promised assistance throughout.
I imagine this project leading to a small book of critical-historical analysis of Smihi's films that would also include selected critical essays by him, translated by me, and an interview with the director, bringing his work and its contexts to English-speaking readers and scholars.
Peter Limbrick Asst. Prof, Film and Digital Media UC Santa Cruz, 1156 High St, Santa Cruz, CA 95064, USA ph (+1) 831-459-1239 fax (+1) 831-459-1341