Accueil du site > Cinémathèque > Watching rewatching films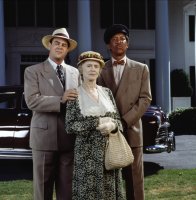 Watching rewatching films
lundi 24 février 2014, par Moumen Smihi
After Teheran Film Festival
A very good film has been rewarded best picture and best screenplay, coming from Estonia, " Tangerines ", by Zaza Urushadze.
A moving picture, because promoting non violence when our world today is so brutal.
Bruce Beresford, from Australia, attended the Fajr Film Fest, and I remembered his 4 Oscars film, " Driving Miss Daisy " (1990).
We are not watching the same film through time.
What appeared to me a beautiful, a brilliant hollywoodian comedy, seems to me now a political forerunner work, one of these universal events that made the phenomena Mandela and Obama possible.
Also : very few films succeeded like "DMD" in broaching in the same time the refusal of the antisemitism AND the racism, I can cite only " Jazz Singer " (1929) and the Woody Allen cinema systematically performing Jazz music.