Accueil du site > Festivals > Talking in Block Cinema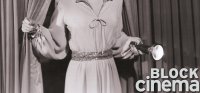 Talking in Block Cinema
vendredi 24 octobre 2014, par Moumen Smihi
Presenting films of the series Northwestern University April 2014
When studying in Paris, I discovered the cinema continent at the Langlois Cinemathèque Française.
I watched there Franck Borzage realist, William Wellman's poetic and Leo MacCarey's multi talented films.
I could never imagine that one day I'll show my films in a same program.
I thank the Arab dahr- which means fate, time, luck… and thank you.
"Tears on the Ruins", not melancholy of Chergui.
Intertextuality of 44 Classic/popular poetry, Visconti/Jancso.
Texts-films of MC : narrative road movie.
Moving discovery in Chicago downtown : a huge photo of Freud on a building.