Accueil du site > Festivals > Rétrospectives > With Matisse In Tangier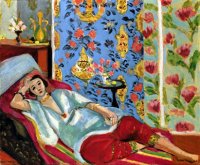 With Matisse In Tangier
samedi 13 septembre 2014
extending the run of the film
at the Tate Modern in London
Moumen Smihi : Poet of Tangier
" We held some more free screenings of your Matisse film this summer during the final weeks of the exhibition. They proved very popular ; so great to be able to extend the run of that film."
One of the most important Arab filmmakers working today, Moumen Smihi is founding figure of the "New Arab Cinema" of the Maghreb (Morocco, Algeria, and Tunisia).
Deeply rooted in the unique culture of Tangier, the port city of Morocco, his work reflects the cosmopolitan make-up of this cultural hub from exploring influential time Henri Matisse's spent in Tanger between 1912-13 to evoking the literary and cinematic depictions of Morocco in the work of Paul Bowles, Orsen Welles and Mohamed Choukri among many writers and poets that permeate his work.
Born in Tangier, Smihi studied in Paris with Roland Barthes and was deeply influenced by the revolutionary ideas of 1968. Driven by a desire to bring this social and political consciousness to the Maghreb, Smihi returned to Morocco to produce his ground breaking first film El Chergui / The East Wind 1975 set on the cusp of Moroccan independence.
From his earliest shorts to his recently completed trilogy, Smihi's work addresses issues from colonial history to political censorship, coloured throughout by a reflection on the cultural, religious and linguistic diversity that characterise contemporary Moroccan reality.
Moumen Smihi 1 : The East Wind Friday 9 May, 19.00 – 21.00 Moumen Smihi, The East Wind / El Chergui Morocco 1975, 35mm, 80 min + Moumen Smihi, Si Moh, The Unlucky Man/ Si Moh, pas de chance France 1971, 16mm transferred to video, 17min
With Matisse in Tanger Sunday 11 May, 15.00 – 16.00 Moumen Smihi, With Matisse in Tanger/Avec Matisse à Tanger France/Morocco 1993, video, 50min
Moumen Smihi 2 : 44, or Tales of the Night Sunday 11 May, 17.00 – 19.00 Moumen Smihi, 44, or Tales of the Night/ 44 ou les récits de la nuit Morocco 1981, 35mm, 110 mins
Moumen Smihi 3 : The Lady from Cairo Tuesday 13 May, 18.30 – 21.00 Moumen Smihi, The Lady from Cairo/La dame du Caire Egypt/Morocco 1991, 90 min
Moumen Smihi 4 : Moroccan Chronicles Friday 16 May, 19.30 – 21.30 Moroccan Chronicles / Chroniques Marocaines Morocco 1999, 35mm, 70 min
Moumen Smihi 5 : A Muslim Childhood Saturday 17 May, 19.00 – 21.00 A Muslim Childhood / El Ayel : Le gosse de Tanger Morocco 2005, 35mm, 83 min
Moumen Smihi 6 : Girls and Swallows Sunday 18 May, 15.00 – 17.00 Girls and Swallows/ Les hirondelles : Les cris de jeunes filles des hirondelles Morocco 2008, 80 min
Moumen Smihi 7 : The Sorrows of a Young Tangerian Sunday 18 May, 18.00 – 20.00 The Sorrows of a Young Tangerian/Tanjaoui : Peines de coeur et tourments du jeune Tanjaoui Larbi Salmi Morocco 2012, 35mm, 95 min
With Matisse in Tangier 20, 27 April & 4, 11 May 15.00 Tate Modern, Starr Auditorium Free Matisse visited Tangier in 1912 - 1913 and Moroccan culture had a life-long impact on his work. This unique documentary explores the encounter from the Moroccan perspective, retracing Matisse's experience drawing on his work, letters and writings. Moumen Smihi, With Matisse in Tanger/Avec Matisse à Tanger France/Morocco 1993, video, 50min 
Portfolio